Welcome to our Worldwide Prayer Network. This network spans the globe where Ministers, Ministries, Individuals and Congregations are joining in unity to pray for the "Body of Christ" to work together in the spirit of love, harmony and purpose. It is our prayer that this network will pray every hour of every day until Jesus […]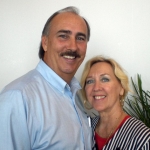 Paul is the Founder and CEO of All Pro Pastors Ministry, a ministry that encourages and challenges Pastors to join together as Kingdom Brothers to develop trust, accountability and unity. It is a ministry that strengthens Pastors marriages, families, and ministries by establishing "Champions Table's". The "Champions Table" is a safe place where Pastors can meet together and develop genuine relationships. The Champions Table is a pastors "Prayer Fortress"!
Pastor Paul Pickern is married to his wife Linda. They have 5 children (Tony, Stephanie, Dale, Seth, Schyler) and 12 grand children. Their home is in Plant City, Florida between Tampa and Orlando. Paul was born in Belleville, Illinois and Linda was born in Charleston, West Virginia.