Pastors and leaders you are invited for our February 2019 Power Luncheon with special guests:
Mike Williams, Best Selling author, Nationally known speaker and 2017 Dove Award winner. Mike has written many books on how to increase cash flow for any non-profit. Now his newest book is just for Pastors "Reboot Church Giving".  If your church needs a financial boost this power luncheon could be an answer to your prayers.
Dr Joseph Doxa, Director of the Pastors Prayer Center, Pastor of Glory Life Church, Internationally known Speaker and COO of All Pro Pastors. Dr Doxa leads the powerful  international Pastors Prayer call each week and is invited to lead conferences and seminars on prayer throughout the world.
Please RSVP today to reserve your seat! EMail : Pastor@allpropastors.org
Plan to stay the entire time, you will want to hear and meet these two powerful men of God and of our Nation!
This is a "Complimentary " event for Pastors.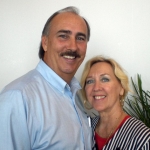 Paul is the Founder and CEO of All Pro Pastors Ministry, a ministry that encourages and challenges Pastors to join together as Kingdom Brothers to develop trust, accountability and unity. It is a ministry that strengthens Pastors marriages, families, and ministries by establishing "Champions Table's". The "Champions Table" is a safe place where Pastors can meet together and develop genuine relationships. The Champions Table is a pastors "Prayer Fortress"!
Pastor Paul Pickern is married to his wife Linda. They have 5 children (Tony, Stephanie, Dale, Seth, Schyler) and 12 grand children. Their home is in Plant City, Florida between Tampa and Orlando. Paul was born in Belleville, Illinois and Linda was born in Charleston, West Virginia.