All Pastors and Spouses are invited to join us at Schalamar Creek Golf and Country Club 7:00AM-3:00PM for a fun filled day of golf, gifts, food and other games. A four team Scramble Golf Tournament and wives and women in ministry have a full slate of inside activities.
The day includes a $5000 putting contest and one Pastor will try for $1,000,000 hole in one. Best of all it is free to Pastors. (Two maximum per church.)
To register Click Here:  http://allpropastors2015.eventzilla.net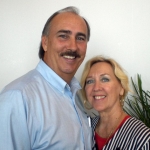 Paul is the Founder and CEO of All Pro Pastors Ministry, a ministry that encourages and challenges Pastors to join together as Kingdom Brothers to develop trust, accountability and unity. It is a ministry that strengthens Pastors marriages, families, and ministries by establishing "Champions Table's". The "Champions Table" is a safe place where Pastors can meet together and develop genuine relationships. The Champions Table is a pastors "Prayer Fortress"!
Pastor Paul Pickern is married to his wife Linda. They have 5 children (Tony, Stephanie, Dale, Seth, Schyler) and 12 grand children. Their home is in Plant City, Florida between Tampa and Orlando. Paul was born in Belleville, Illinois and Linda was born in Charleston, West Virginia.