Pastors, leaders we have a treat for you! We have Actors, Film Producers Kevin and Sam Sorbo – "God is not Dead", "Let there be Light", "Hercules the T.V. series", and over 50 more movies,  coming to Tampa,Fl. on Thursday November 7th 6:30-9:30 PM for a Pastors Private Screening of their new movie "Miracle in East Texas" and hosted at Mission Hill Church in Tampa, Florida.  This will include a nice dinner and photos with Kevin and Sam. Everyone will have an opportunity to meet them in person!
We have very limited seating and tickets to attend are required.
Tickets are $25.00 per couple. – (PURCHASE TICKETS HERE)
This will be a very exciting night of fun and laughter.
Tickets must be purchased in advance
(This is exclusively for Pastors and Ministry Leaders including Marketplace)
We reserve the right to deny access to this event of anyone!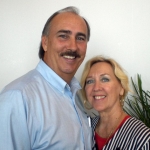 Paul is the Founder and CEO of All Pro Pastors Ministry, a ministry that encourages and challenges Pastors to join together as Kingdom Brothers to develop trust, accountability and unity. It is a ministry that strengthens Pastors marriages, families, and ministries by establishing "Champions Table's". The "Champions Table" is a safe place where Pastors can meet together and develop genuine relationships. The Champions Table is a pastors "Prayer Fortress"!
Pastor Paul Pickern is married to his wife Linda. They have 5 children (Tony, Stephanie, Dale, Seth, Schyler) and 12 grand children. Their home is in Plant City, Florida between Tampa and Orlando. Paul was born in Belleville, Illinois and Linda was born in Charleston, West Virginia.