Paul and Linda Pickern will be in Crane, Mo. in Late October to visit the new Whispering Pony Ranch Retreat Lodge and to record a Television show for Skywatch TV. The lodge is being made available by Founders Tom and Nita Horn to Pastors to get away for a few days of rest a relaxation. We will be trying it out and have more upon our return.
Their ministry is very broad in scope and every pastor/Christian should be following it with eager eyes. Their publishing company produces many extraordinary and highly researched materials.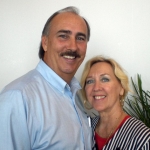 Paul is the Founder and CEO of All Pro Pastors Ministry, a ministry that encourages and challenges Pastors to join together as Kingdom Brothers to develop trust, accountability and unity. It is a ministry that strengthens Pastors marriages, families, and ministries by establishing "Champions Table's". The "Champions Table" is a safe place where Pastors can meet together and develop genuine relationships. The Champions Table is a pastors "Prayer Fortress"!
Pastor Paul Pickern is married to his wife Linda. They have 5 children (Tony, Stephanie, Dale, Seth, Schyler) and 12 grand children. Their home is in Plant City, Florida between Tampa and Orlando. Paul was born in Belleville, Illinois and Linda was born in Charleston, West Virginia.