The All Pro Pastors Lakeland Chapter's final quarterly luncheon for 2014 will be held at the HBTV Studio in downtown Lakeland. Pastor H B Holmes will be sharing how to use Television and technology to reach your congregation, your community and the entire world. As a Pastor and a messenger of God you need to be aware of every tool at your disposal to reach the lost world for Jesus.
This luncheon will demonstrate how to use very cost effective methods to deliver your messages to many thousands of people each week.
You will also hear from others of what they are doing and the benefits it is for them as a Pastor and ministry.
All Pro Pastors is an organization for Pastors and by Pastors of all different denominations. Please join us for this powerful luncheon. It could very easily take your ministry to a new level!
RSVP Today. We are praying for you.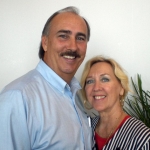 Paul is the Founder and CEO of All Pro Pastors Ministry, a ministry that encourages and challenges Pastors to join together as Kingdom Brothers to develop trust, accountability and unity. It is a ministry that strengthens Pastors marriages, families, and ministries by establishing "Champions Table's". The "Champions Table" is a safe place where Pastors can meet together and develop genuine relationships. The Champions Table is a pastors "Prayer Fortress"!
Pastor Paul Pickern is married to his wife Linda. They have 5 children (Tony, Stephanie, Dale, Seth, Schyler) and 12 grand children. Their home is in Plant City, Florida between Tampa and Orlando. Paul was born in Belleville, Illinois and Linda was born in Charleston, West Virginia.