Pastors, you and your spouse(if available) are invited to our Plant City quarterly Pastors Luncheon. This  luncheon will have a very special guest, Rabbi Ron Goldberg. He is a Messianic Rabbi and a gifted teacher. He will be bringing a message that brings our Jewish/Christian roots together regarding this holiday season.
Minister/Brother Dana Hardee, who is working with the Billy Graham Ministry will also be sharing a word about what they have for churches that is absolutely free. Their powerful program is something every Pastor needs to hear about.
Please bring your Pastoral staff (Especially your student/youth Pastors). There will also be a special message just for them!
Something big is about to happen in Plant City and you will want to be a part of this!
RSVP today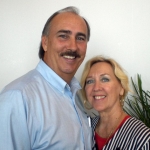 Paul is the Founder and CEO of All Pro Pastors Ministry, a ministry that encourages and challenges Pastors to join together as Kingdom Brothers to develop trust, accountability and unity. It is a ministry that strengthens Pastors marriages, families, and ministries by establishing "Champions Table's". The "Champions Table" is a safe place where Pastors can meet together and develop genuine relationships. The Champions Table is a pastors "Prayer Fortress"!
Pastor Paul Pickern is married to his wife Linda. They have 5 children (Tony, Stephanie, Dale, Seth, Schyler) and 12 grand children. Their home is in Plant City, Florida between Tampa and Orlando. Paul was born in Belleville, Illinois and Linda was born in Charleston, West Virginia.