Last year was a great kick off for APP in Kitengella, Kenya. Pastor Simon Obunga has led the charge to get All Pro Pastors established in this city just outside of Niarobi. This year we expect to see many more Pastors and to establish many leaders to help reach the huge Kenyan Capital City.  Thank you for your prayers and support. As you support this effort you are impacting widows, orphans, local schools and bringing the lost to salvation. These Pastors we minister to touch countless thousands of lives and this ministry is supporting each of them in many different ways. Thank you!!!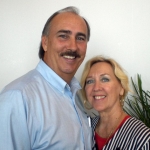 Paul is the Founder and CEO of All Pro Pastors Ministry, a ministry that encourages and challenges Pastors to join together as Kingdom Brothers to develop trust, accountability and unity. It is a ministry that strengthens Pastors marriages, families, and ministries by establishing "Champions Table's". The "Champions Table" is a safe place where Pastors can meet together and develop genuine relationships. The Champions Table is a pastors "Prayer Fortress"!
Pastor Paul Pickern is married to his wife Linda. They have 5 children (Tony, Stephanie, Dale, Seth, Schyler) and 12 grand children. Their home is in Plant City, Florida between Tampa and Orlando. Paul was born in Belleville, Illinois and Linda was born in Charleston, West Virginia.