Paul Pickern will be one of the speakers at the "Club 45" meeting July 18th at The River Church in Tampa, Florida at 6:30 PM. He will be bringing an update of his recent visit with several Pastors and ministry leaders from throughout America at the Yuma, Arizona Border Patrol Headquarters. This message will be up to date information on the immigration conditions and how the immigrants are being treated.
Anthony Verdugo from  the Christian Family Coalition Florida is the featured speaker and will coming from Miami Florida.
The stated mission of "Club 45" is to bring unity and healing to our community and nation to include all races, political parties, religions and denominations.
The event is free.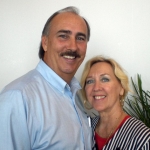 Paul is the Founder and CEO of All Pro Pastors Ministry, a ministry that encourages and challenges Pastors to join together as Kingdom Brothers to develop trust, accountability and unity. It is a ministry that strengthens Pastors marriages, families, and ministries by establishing "Champions Table's". The "Champions Table" is a safe place where Pastors can meet together and develop genuine relationships. The Champions Table is a pastors "Prayer Fortress"!
Pastor Paul Pickern is married to his wife Linda. They have 5 children (Tony, Stephanie, Dale, Seth, Schyler) and 12 grand children. Their home is in Plant City, Florida between Tampa and Orlando. Paul was born in Belleville, Illinois and Linda was born in Charleston, West Virginia.