This annual event brings Pastors and Ministry Leaders from all over the country and many from across the seas together for two special days of discussion and presentation of where ministry is today. It brings cutting edge ideas and technology together to see how to present the gospel and discipleship into today's ever changing church.
This is a limited, by invitation only that All Pro Pastors has been invited to join for the past 4 years.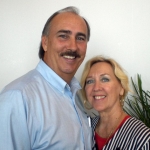 Paul is the Founder and CEO of All Pro Pastors Ministry, a ministry that encourages and challenges Pastors to join together as Kingdom Brothers to develop trust, accountability and unity. It is a ministry that strengthens Pastors marriages, families, and ministries by establishing "Champions Table's". The "Champions Table" is a safe place where Pastors can meet together and develop genuine relationships. The Champions Table is a pastors "Prayer Fortress"!
Pastor Paul Pickern is married to his wife Linda. They have 5 children (Tony, Stephanie, Dale, Seth, Schyler) and 12 grand children. Their home is in Plant City, Florida between Tampa and Orlando. Paul was born in Belleville, Illinois and Linda was born in Charleston, West Virginia.